Engineered To Be The Very Best
Beverly Pacific has gained its industry wide reputation for scrubber application engineering excellence by providing the best solutions possible for each and every customer requirement that we encounter. The products that we offer reflect our commitment to quality and value.
Our standard horizontal cross flow (PSH) and vertical counter flow (PSV) line of packed scrubbers are available in capacities from 1,000 cfm to 60,000 cfm to meet most requirements. For special applications, custom scrubbers are available in larger sizes. All of the Beverly Pacific scrubber bodies can be modified to accommodate a wide variety of special requirements. Redundant pumps and fans, corrosion resistant liners, special mist eliminators, unique containment pans and custom footprints are just a few of the ways that Beverly Pacific can fine tune each scrubber to perfectly suit each application and need.
Other Beverly Pacific Products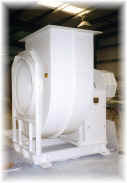 To compliment our scrubber systems Beverly Pacific offers a large variety of fans and fan accessories as well as a complete line of FRP duct and FRP duct fittings. Our FRP duct meets or exceeds SMACNA construction standards. As a superior alternative to phenolic resin and/or stainless steel coated duct, we offer combined FRP duct and patented Flexhead fire protection assemblies.
Service and Support
Perhaps Beverly Pacific's most important product is the system engineering support that is available to design and configure each scrubber system to best fit its intended purpose. Experienced system engineering can save an owner thousands of dollars a year in operating and maintenance costs when compared to operating scrubbers not carefully configured for their applications.
Whatever your scrubber requirement, Beverly Pacific offers the most comprehensive support and pre-shipment testing available today. Contact us the next time you need an FRP scrubber or ductwork. We'll be ready to help make your project a success.
Cost Effective Solutions
All of Beverly Pacific's scrubbers are value engineered to provide you with a scrubber system that is:
| | |
| --- | --- |
| | Effective and Efficient |
| | Easy to maintain |
| | Economical to Operate |
| | Durable in Use |
FRP Scrubber Bodies
Only the highest quality vinyl ester resins are used to manufacture our scrubber bodies. Special resins are available for special requirements. Various surface veils are used internally to stand up to the most corrosive contaminants.
Packing and Packing Containment
Beverly Pacific uses the finest polypropylene packing materials available. Our packing is non-nesting, light weight, corrosion and heat resistant and self-cleaning. The specially designed packing containment structure in each scrubber ensures excellent scrubbing chemistry with a minimum of pressure drop. Lantec, our primary supplier, offers new high-velocity packing.
Recirculation System
Either one or two (when redundancy is called for) vertical CPVC or SS pumps are used together with PVC plumbing and nozzles to provide the most effective, trouble free recirculation system available. Beverly Pacific's unique "high flow/low pressure" design virtually guarantees years of low maintenance operation. (Remote sumps and recirculation systems are available.)
Mist Eliminators
All Beverly Pacific scrubber systems feature carefully engineered mist elimination assemblies to provide ultra-efficient, low loss mist separation. Through attention to detail, Beverly Pacific routinely offers mist eliminators which separate 99% of 14 micron particles and larger with less that 1 inch W.G. pressure loss. Higher efficiency mist eliminator assemblies are available on request.
Instrumentation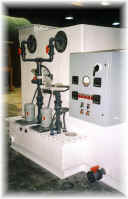 Every Beverly Pacific control panel is tailored to its application. As a basic set, each scrubber comes fitted with a NEMA-4 panel containing a master cut-off switch, on/off switches for the fan(s) and pump(s), recirculation flow and pressure indicator. Our standard control panel comes pre-wired and pre-mounted to the scrubber shell featuring a single point service installation. PLCs, flat panel control displays and other upgrade accessories are available on request.
Optional Equipment
| | |
| --- | --- |
| | Nexus Corrosion Resistant Liner |
| | Containment Pump |
| | Sump Heater and Control |
| | Programmable Logic Controller (PLC) |
| | FMCS Interfaces |
| | Flat Panel Control/Display Module |
| | pH,ORP & Conductivity Monitor and Control |
| | Seismic Engineering & Mounts |
| | Special Handling & Hold Down Lugs |
| | Unique Casing Dimensions & Footprints |
| | Fans with Duct and Plenums |
| | Remote Sump |
Beverly Pacific - Focused on Value
Beverly Pacific has been in business since 1947. We take great pride in our focus on manufacturing the best value in scrubbers and FRP duct in the industry. We're looking forward to working with you on your next project.
Pricing
All Beverly Pacific pricing is by quote only. Please contact Beverly Pacific with your application requirements for assistance and price information. We'll be happy to share our experience with you as you plan your new facility or upgrade your existing operation.